Brass Bushing SPF
Product Introduction
Material: High Tensile Brass Alloy + Graphite Solid Lubricant Embedded
Features:
May work without any oil for a long period.
Extremely high load capacity, good anti-wear and lower friction
Particularly appropriate for low speed and high load.
Suitable for reciprocating, oscillating or intermittent motion where oil film is hard to be formed.
Good chemical resistant and anti-corrosion characteristics.
Can be used in wide range of temperature from -40℃-+300℃.
Low maintenance frequency.
Technical Data
Material
CuZn24AL6
Hardness
HB230-270
Coefficient of friction(μ)
<0.16
Max. Temp.
300℃
Max. dynamic load
100 N/mm²
Max. speed(Dry)
0.4 m/s
Max. speed (Lubrication)
5 m/s
PV limit
3.8 N/mm² *m/s
Chemical Compositions
Chemical Compositions %
Cu
Zn
Al
Fe
Mn
Si
Ni
Sn
Pb
64.24
25.10
5.17
2.67
2.82
<0.1
<0.5
<0.2
<0.2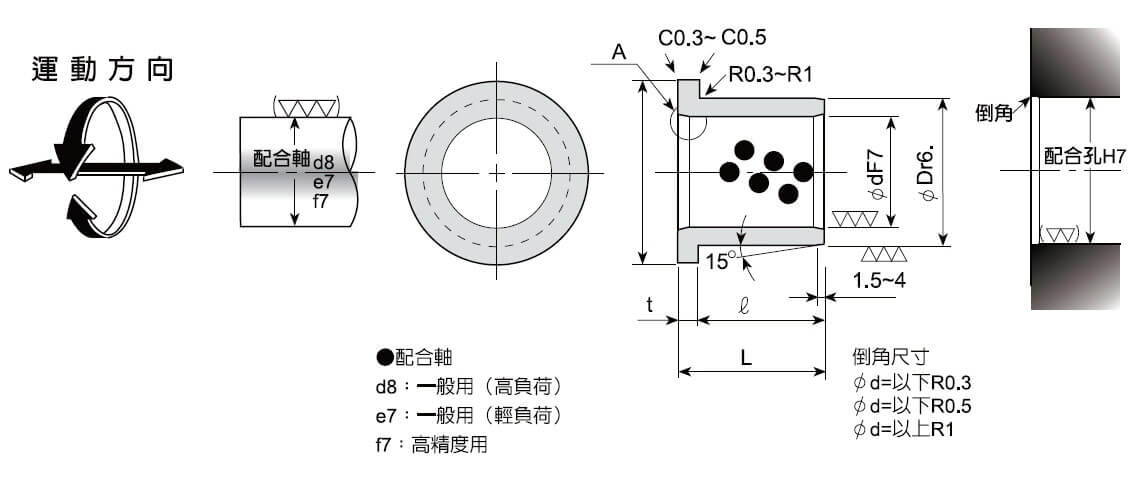 Product Model : SPF
Self-lubricated Brass Alloy Bushings #500SP (SPF) can be used in rotation, swing and reciprocating motion.
Attention: There is no solid lubricant on the flange.
Please avoid using in water.
The inner diameter of 31.5mm is in the middle of the hydraulic cylinder trunnion bushing.

Item No

: SPF- XX XX

ID Length
Shaft Diameter
Dimension (mm)
Length (Tolerance )
ID
OD
ID
OD
Flange
10
15
20
25
30
35
40
50
60
67.5
80
100
Ød
TOL
ØD
TOL
ØF
Thickness
TOL
SPF
SPF
SPF
SPF
SPF
SPF
SPF
SPF
SPF
SPF
SPF
SPF
10
10
+0.04
14
+0.034
22
2
0
-1010
-1015
-1020
 
 
 
 
 
 
 
 
 
10
14
+0.025
+0.023
-0.1
 
 
12
12
+0.05
18
+0.034
25
3
"
-1210
-1215
-1220
-1225
-1230
 
 
 
 
 
 
 
12
18
+0.032
+0.023
 
 
13
13
+0.05
19
+0.041
26
3
"
 
-1315
-1320
 
 
 
 
 
 
 
 
 
13
19
+0.032
+0.028
 
 
 
14
14
+0.05
20
+0.041
27
3
"
 
-1415
-1420
-1425
 
 
 
 
 
 
 
 
14
20
+0.032
+0.028
 
 
15
15
+0.05
21
+0.041
28
3
"
-1510
-1515
-1520
-1525
-1530
 
 
 
 
 
 
 
15
21
+0.032
+0.028
 
 
16
16
+0.05
22
+0.041
29
3
"
 
-1615
-1620
-1625
-1630
-1635
-1640
 
 
 
 
 
16
22
+0.032
+0.028
 
 
20
20
+0.061
30
+0.041
40
5
"
 
-2015
-2020
-2025
-2030
 
-2040
 
 
 
 
 
20
30
+0.04
+0.028
 
 
25
25
+0.061
35
+0.05
45
5
"
 
-2515
-2520
-2525
-2530
-2535
-2540
-2550
 
 
 
 
25
35
+0.04
+0.034
 
 
30
30
+0.061
40
+0.05
50
5
"
 
 
-3020
-3025
-3030
-3035
-3040
-3050
 
 
 
 
30
40
+0.04
+0.034
 
 
31.5
31.5
+0.075
40
+0.05
50
5
"
 
 
-3120
 
-3130
-3135
-3140
 
 
 
 
31.5
40
+0.05
+0.034
 
 
 
 
35
35
+0.075
45
+0.05
60
5
"
 
 
-3520
-3525
-3530
-3535
-3540
-3550
 
 
 
 
35
45
+0.05
+0.034
 
 
40
40
+0.075
50
+0.05
65
5
"
 
 
-4020
-4025
-4030
-4035
-4040
-4050
 
 
 
 
40
50
+0.05
+0.034
 
 
45
45
+0.075
55
+0.073
70
5
"
 
 
 
 
-4530
-4535
-4540
-4550
-4560
 
 
 
45
55
+0.05
+0.041
 
 
 
 
50
50
+0.075
60
+0.073
75
5
"
 
 
 
 
-5030
-5035
-5040
-5050
-5060
 
 
 
50
60
+0.05
+0.041
 
 
 
 
55
55
+0.09
65
+0.073
80
5
"
 
 
 
 
 
 
-5540
 
-5560
 
 
 
55
65
+0.06
+0.041
 
 
 
 
 
 
60
60
+0.09
75
+0.062
90
7.5
"
 
 
 
 
 
 
-6040
-6050
-6060
 
-6080
 
60
75
+0.06
+0.043
 
 
 
 
63
63
+0.09
75
+0.062
85
7.5
"
 
 
 
 
 
 
 
 
 
-6367
 
 
63
75
+0.06
+0.043
 
 
 
 
 
 
70
70
+0.09
85
+0.083
105
7.5
"
 
 
 
 
 
 
 
-7050
 
 
-7080
 
70
85
+0.06
+0.051
 
 
 
 
 
 
75
75
+0.09
90
+0.083
110
7.5
"
 
 
 
 
 
 
 
 
-7560
 
 
 
75
90
+0.06
+0.051
 
 
 
 
 
 
80
80
+0.09
100
+0.083
120
10
"
 
 
 
 
 
 
 
 
-8060
 
-8080
-80100
80
100
+0.06
+0.051
 
 
 
 
 
 
90
90
+0.107
110
+0.076
130
10
"
 
 
 
 
 
 
 
 
-9060
 
-9080
 
90
110
+0.072
+0.054
 
 
 
 
 
 
100
100
+0.107
120
+0.076
150
10
"
 
 
 
 
 
 
 
 
 
 
-10080
-100100
100
120
+0.072
+0.054
 
 
 
 
 
 
 
120
120
+0.107
140
+0.088
170
10
"
 
 
 
 
 
 
 
 
 
 
-12080
-120100
120
140
+0.072
+0.063